Learning Stencyl 3.x Game Development: Beginner's Guide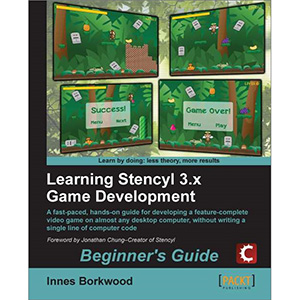 Creating video games has traditionally been a long and complicated process, requiring years of experience and a vast array of skills. However, with the introduction of comprehensive game-development toolkits such as Stencyl, the fun has returned to the art of game-creation – anyone who has the desire to create their own video game can now do so with almost any desktop computer and a free software download from the Internet!
Learning Stencyl 3.x Game Development: Beginner's Guide will put you on the fast-track to learning the essentials of the powerful Stencyl game-development toolkit. You will develop a complete, ready-to-publish video game including in-game advertising, by following the clear, step-by-step tutorials, supported by numerous screenshots and practical examples.
This book will guide you through all the important steps required to develop and publish your video game. Starting with the installation and testing of the Stencyl toolkit, you will very quickly advance to the fun and exciting process of creating a playable game. The step-by-step tutorials will guide you from a blank screen, right through to giving your game that final polish and sharing it with the rest of the world.
Whilst developing your feature-complete video game, you will learn how to easily detect collisions in your game using Stencyl's built-in physics engine. You'll discover how to use the powerful animation tools included in Stencyl's toolkit, and you'll find out how to make your game shine with sounds and visual special effects. You will also discover how Stencyl makes it easy to utilize the touch-screen and accelerometer features of smartphones and tablet computers.
You will learn all the essential skills required to develop a video game from scratch – right through to publishing a game on the Internet and testing games  on the most popular mobile devices.
What you will learn from this book
Installing and testing the Stencyl game development toolkit.
Rapidly creating your video game using Stencyl's drag and drop gameplay designer.
Detecting and responding to collisions using Stencyl's built-in physics engine.
Creating customized game-play using Stencyl's intuitive instruction-block system.
Animating objects in your game and modifying them with Stencyl's built-in image editor.
Fine-tuning your game and turning it into a professional product.
Adding sound-effects and a soundtrack to your game.
Implementing some of the special features of smartphones and tablets.
Approach
A step-by-step, practical tutorial with a no-nonsense approach. The book starts by showing readers how to create a playable game that is fully-functioning, then moves on to demonstrate how to fine-tune the game with eye-catching graphics techniques, audio-effects and more.
Who this book is for
This book is perfect for beginning game-developers, who have no prior knowledge of creating games or computer programming. It's also an ideal resource for experienced game-developers and designers who need to create rapid prototypes, or who want to speed up the game-development process. Teachers and students who think learning should be fun will also benefit from this book! No prior knowledge of game-development or computer programming is required.
Book Details
Paperback: 336 pages
Publisher: Packt Publishing (May 2013)
Language: English
ISBN-10: 1849695962
ISBN-13: 978-1849695961
Download [13.0 MiB]