iWork for Mac OS X Cookbook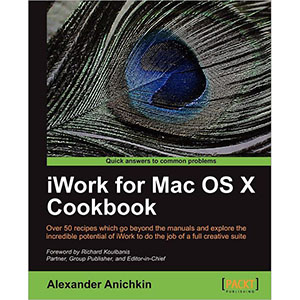 iWork is Apple on a shoestring: iWork costs a fraction of the price of full creative suites and yet is packed with the potential to achieve the same results.
With its word processing and design application called Pages, spreadsheet program Numbers, and presentation creator Keynote, the elegance of iWork is its intuitive behaviour which makes it easy to learn and popular with Mac users.
While Pages can open Word documents and be exported into Word, Numbers doesn't stumble over Excel and iWork documents can be created and viewed on portable devices. Lesser known is iWork's ability to give users great design capability which is comparable to top-end programs such as InDesign and Quark.
"iWork for Mac OSX Cookbook" is the 'missing manual' which shows users how to exploit iWork's full potential. By taking a lateral approach to this relatively inexpensive software, you can find solutions to all your professional and creative needs, from designing logos and brochures to producing a high quality monthly magazine.
This cookbook begins with simple ways to format and organize text with stunning graphic highlights and drop caps, as well as showing how easy it is to import and export MS documents in a couple of clicks.
This well-illustrated, step-by-step guide then shows you how to create your own unique clip art, logos, and photo cut-outs and even how to draw your own pictures for home or professional projects, such as cards or magazines.
Packed with the author's own tips and his 'beyond the manuals' approach to iWork, this book will convince you that, whatever you're working on, this is the only productivity suite you need.
What you will learn from this book
Create your own logos, clip art, and templates
Use Draw tool to make copies of famous pictures
Change backgrounds and use patches and cut-outs on photos
Create press quality PDFs from iWork documents
Put images inside letters
Design your own drop caps and graphic headers
Use Numbers to demystify Excel spreadsheets
Make movies in Keynote
Approach
This book is packed with illustrations and tips to master all the components of the iWork suite and the cookbook problem-solution approach eases the learning curve.
Who this book is written for
This book will show both the new and the confident iWork user how this inexpensive software has all the potential of full creative suites to produce professional quality documents, from unique logos to glossy magazines.
Book Details
Paperback: 324 pages
Publisher: Packt Publishing (September 2012)
Language: English
ISBN-10: 1849693102
ISBN-13: 978-1849693103
Download [31.0 MiB]