iPod: The Missing Manual, 10th Edition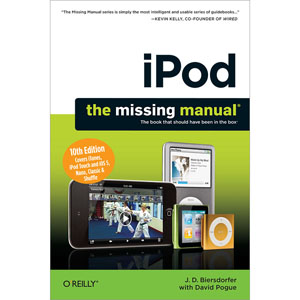 Apple's iPod still has the world hooked on portable music, pictures, videos, movies, and more, but one thing it doesn't have is a manual that helps you can get the most out this amazing device. That's where this book comes in. Get the complete scoop on the latest line of iPods and the latest version of iTunes with the guide that outshines them all—iPod: The Missing Manual.
The 10th edition is as useful, satisfying, and reliable as its subject. Teeming with high-quality color graphics, each page helps you accomplish a specific task—everything from managing your media and installing and browsing iTunes to keeping calendars and contacts. Whether you have a brand-new iPod or an old favorite, this book provides crystal-clear explanations and expert guidance on all of the things you can do:
Fill 'er up. Load your Nano, Touch, Classic, or Shuffle with music, movies, and photos, and learn how to play it all back.
Tour the Touch. Surf the Web, use web-based email, collect iPhone apps, play games, and more.
Share music and movies. Copy music between computers with Home Sharing, beam playlists around the house, and whisk your Nano's videos to YouTube.
iTunes, tuned up. Pick-and-choose which music, movies, and photos to sync; create instant playlists with Genius Mix; and auto-rename "Untitled" tracks.
iPod power. Create Genius playlists on your iPod, shoot movies on your Nano, use the Nano's FM radio and pedometer, and add voice memos to your Touch.
Shop the iTunes Store. Find what you're looking for in a snap, whether it's music, movies, apps, lyrics, or liner notes.
Table of Contents
Chapter 1 Meet the iPod: Out of the Box and Into Your Ears in 15 Minutes
Chapter 2 Bopping Around the iPod Nano, Shuffle, and Classic
Chapter 3 Touring the Touch
Chapter 4 iTunes Basics
Chapter 5 iTunes Power Moves
Chapter 6 The Power of Playlists
Chapter 7 Shop the iTunes Store
Chapter 8 It's Showtime: Video on the iPod
Chapter 9 Picture Your Photos On the iPod
Chapter 10 The iPod as Personal Assistant
Chapter 11 Surf the Web and More with the iPod Touch
Chapter 12 iPod and iTunes Out Loud
Chapter 13 What to Do When Your iPod Isn't Working Right
Book Details
Paperback: 320 pages
Publisher: O'Reilly Media; 10th Edition (November 2011)
Language: English
ISBN-10: 1449312853
ISBN-13: 978-1449312855
Download [75.5 MiB]