iPhone 5 Portable Genius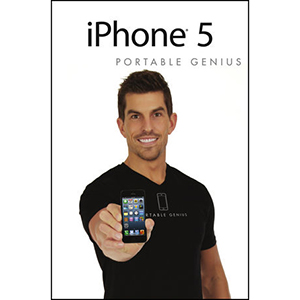 Make the most of everything your exciting new iPhone 5 has to offer
Now that you have the latest and greatest iPhone, it's time to find all the best and most fun ways to use it. This quick and handy guide presents all the important stuff you want to know, in a hip, helpful way. Packed with tips, tricks, and techniques, this edition covers the practical as well as the newest and coolest features, things like iOS 5, Siri, FaceTime video calling, HD video recording, multitasking, and much more.
Packs a boatload of tips, tricks, and techniques in a handy size to help you get the most out of your iPhone 5
Uses the hip, practical Portable Genius approach, designed to show you the key features that keep your digital lifestyle humming
Spotlights innovative ways to complete various tasks and help you save time and hassle
Reveals tips and tricks for working with the newest features, including iOS 5, Siri, FaceTime, HD video recording and editing, multitasking, and more
iPhone 5 Portable Genius is an essential accessory to your new iPhone.
Table of Contents
Chapter 1. How Do I Start Using My iPhone?
Chapter 2. How Do I Configure My iPhone?
Chapter 3. How Do I Connect My iPhone to a Network?
Chapter 4. How Can I Get More Out of the Phone App?
Chapter 5. How Can I Make the Most of iPhone Web Surfing?
Chapter 6. How Do I Maximize iPhone E-mail?
Chapter 7. How Do I Synchronize My iPhone?
Chapter 8. How Can I Get More Out of My iPhone's Audio Features?
Chapter 9. How Do I Max Out the iPhone Photo and Video Features?
Chapter 10. Can I Use My iPhone to Manage Contacts and Appointments?
Chapter 11. How Do I Use My iPhone to Navigate My World?
Chapter 12. How Do I Manage My E-book Library?
Chapter 13. How Do I Keep My Life in Sync with iCloud?
Chapter 14. How Do I Fix My iPhone?
Book Details
Paperback: 384 pages
Publisher: Wiley (October 2012)
Language: English
ISBN-10: 1118352785
ISBN-13: 978-1118352786
Download [17.8 MiB]