iPad 2 Made Simple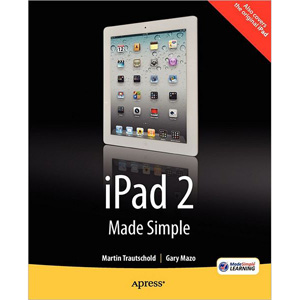 The iPad 2 is thinner, more powerful, intuitive and very fun for users of all ages. Your iPad can be used for reading, surfing the web, emailing, watching TV and movies, getting work done and much more. And with over 65,000 apps just for the iPad, as well as the ability to run over 30,000 iPhone apps, the possibilities are endless.
iPad 2 Made Simple clarifies all of the key features on the iPad, introduces what's new, and also reveals dozens of time-saving shortcuts and techniques. The book has over 1,000 screen shots that are carefully annotated with step-by-step instructions.
Clear instructions on how to set up and use the iPad
Illustrated explanations of all the key features
Hundreds of graphics as well as tips and tricks
What you'll learn
Master the multi-touch display
Browse, buy, and read books with iBooks as well as the Kindle app
Employ little-known time-saving tips and tricks
Learn how to surf the web like never before
Organize, view and share your photos and albums via social networking sites and e-mail
Discover and download great apps from the App Store
How to squeeze every ounce of power from E-mail, Calendar and Contacts
Using iTunes to find music, videos, Podcasts, TV shows and more on your iPad
Synchronize your iPad with your Windows or Mac or with your MobileMe or Google account
Who this book is for
This book is for new iPad users, as well as seasoned iPad, iPhone or iPod touch users who are ready to explore the new world of the iPad 2.
Table of Contents
Getting Started
Typing Tips, Copy/Paste and Search
Sync Your iPad with iTunes
Other Sync Methods
Wi-Fi and 3G Connectivity
Organize Your Icons and Folders
Personalize and Secure Your iPad
Multitasking and Lock Rotation/Mute
Playing Music
Viewing Videos, TV Shows and More
Surfing the Web with Safari
iBooks and E-Books
Email on your iPad
Working with Contacts
Your Calendar
iPad Photography
Recording and Editing Videos
FaceTime Video Messaging and Skype
Productivity and File Transfer
iTunes on your iPad
The Amazing App Store
Games and Fun
Social Networking
Eliminate Your Paper Notes
Bluetooth on your iPad
New Media: Reading Newspapers, Magazines, and More
Find your way with Maps
Troubleshooting
Your iTunes User Guide
Book Details
Paperback: 804 pages
Publisher: Apress (June 2011)
Language: English
ISBN-10: 1430234970
ISBN-13: 978-1430234975
Download [254.6 MiB]