Instant Adobe Story Starter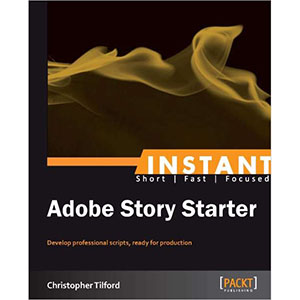 Adobe Story makes it easy for anybody to create a well-rounded script, and gives you the power to develop an entire project from start to finish. Setting up predetermined styles in different word processors can be time- consuming and even a little confusing! With Adobe Story, all documents contain the default and proper formatting for any desired professional script format.
Have you ever wanted to put together your own screenplay? In this essential guide, script formatting is fully explained alongside some shortcuts and new ways to enhance your work with Adobe Story. You'll discover that the script-writing process is more accessible to even the newest, inexperienced writer.
"Instant Adobe Story Starter" will take you through a concise yet straight-forward journey, introducing you to elements used in all industry-standard scripts, as well as other features geared towards streamlining the pre-production process. You will also be able to harness the different types of script templates available to you, alongside the wide array of other features that Adobe Story provides to bolster your creativity.
What you will learn from this book
Learn how to develop industry-standard scripts with excellent formatting
Customize your layout to suit your own preferences
Edit individual Scene properties for maximum efficiency
Track changes during your creative process, without losing access to your original content
Tag objects and characters in scripts for quick references
Create Breakdown Reports for an easy review of your script
Approach
Get to grips with a new technology, understand what it is and what it can do for you, and then get to work with the most important features and tasks. If you're keen to get started writing your own scripts, then you should be able to pick up this essential guide and get creative right away! No prior experience is required, as this is open to all skill levels.
Who this book is written for
If you've always wanted to write scripts for a variety of different creative mediums like film and television, but are unsure of what the industry is looking for when it comes to formatting requirements, then this book is for you.
Book Details
Paperback: 74 pages
Publisher: Packt Publishing (January 2013)
Language: English
ISBN-10: 1849694265
ISBN-13: 978-1849694261
Download [6.4 MiB]