Harnessing Green IT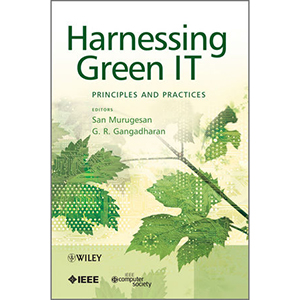 "Ultimately, this is a remarkable book, a practical testimonial, and a comprehensive bibliography rolled into one. It is a single, bright sword cut across the various murky green IT topics. And if my mistakes and lessons learned through the green IT journey are any indication, this book will be used every day by folks interested in greening IT."
— Simon Y. Liu, Ph.D. & Ed.D., Editor-in-Chief, IT Professional Magazine, IEEE Computer Society, Director, U.S. National Agricultural Library
This book presents a holistic perspective onGreen IT by discussing its various facets and showing how to strategically embrace it
Harnessing Green IT: Principles and Practices examines various ways of making computing and information systems greener – environmentally sustainable -, as well as several means of using Information Technology (IT) as a tool and an enabler to improve the environmental sustainability. The book focuses on both greening of IT and greening by IT – complimentary approaches to attaining environmental sustainability.   In a single volume, it   comprehensively covers several key aspects of Green IT – green technologies, design, standards, maturity models, strategies and adoption -, and presents a clear approach to greening IT encompassing green use, green disposal, green design, and green manufacturing. It also illustrates how to stratgically apply green IT in practice in several areas.
Key Features:

Presents a comprehensive coverage of key topics of imprortance and practical relevance  – green technologies, design, standards, maturity models, strategies and adoption
Highlights several useful approaches to embracing green IT in several areas
Features chapters written by accomplished experts from industry and academia who have first-hand knowledge and expertise in specific areas of green IT
Presents a set of review and discussion questions for each chapter that will help the readers to examine and explore the green IT domain further
Includes a companion website providing  resources for further information and presentation slides
This book will be an invaluable resource for IT Professionals, academics, students, researchers, project leaders/managers, IT business executives, CIOs, CTOs and anyone interested in Green IT and harnessing it to enhance our environment.
Table of Contents
Chapter 1. Green IT: An Overview
Chapter 2. Green Devices and Hardware
Chapter 3. Green Software
Chapter 4. Sustainable Software Development
Chapter 5. Green Data Centres
Chapter 6. Green Data Storage
Chapter 7. Green Networks and Communications
Chapter 8. Enterprise Green IT Strategy
Chapter 9. Sustainable Information Systems and Green Metrics
Chapter 10. Enterprise Green IT Readiness
Chapter 11. Sustainable IT Services: Creating a Framework for Service Innovation
Chapter 12. Green Enterprises and the Role of IT
Chapter 13. Environmentally Aware Business Process Improvement in the Enterprise Context
Chapter 14. Managing Green IT
Chapter 15. Regulating Green IT: Laws, Standards and Protocols
Chapter 16. Green Cloud Computing and Environmental Sustainability
Chapter 17. Harnessing Semantic Web Technologies for the Environmental Sustainability of Production Systems
Chapter 18. Green IT: An Outlook
Book Details
Hardcover: 432 pages
Publisher: Wiley-IEEE Press (October 2012)
Language: English
ISBN-10: 1119970059
ISBN-13: 978-1119970057
Download [9.4 MiB]