Group Cell Architecture for Cooperative Communications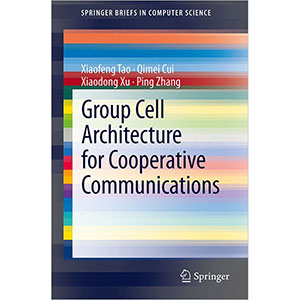 Driven by the increasing demand for capacity and Quality of Service in wireless cellular networks and motivated by the distributed antenna system, the authors proposed a cooperative communication architecture—Group Cell architecture, which was initially brought forward in 2001. Years later, Coordinated Multiple-Point Transmission and Reception (CoMP) for LTE-Advanced was put forward in April 2008, as a tool to improve the coverage of cells having high data rates, the cell-edge throughput and/or to increase system throughput. This book mainly focuses on the Group Cell architecture with multi-cell generalized coordination, Contrast Analysis between Group Cell architecture and CoMP, Capacity Analysis, Slide Handover Strategy, Power Allocation schemes of Group Cell architecture to mitigate the inter-cell interference and maximize system capacity and the trial network implementation and performance evaluations of Group Cell architecture.
Table of Contents
Introduction to Group Cell Architecture.
Capacity Analysis.
Slide Handover.
Power Allocation of Group Cell System.
Group Cell Trial Systems.
Book Details
Paperback: 107 pages
Publisher: Springer (July 2012)
Language: English
ISBN-10: 1461443180
ISBN-13: 978-1461443186
Download [3.2 MiB]