Google AdWords: Managing Your Advertising Program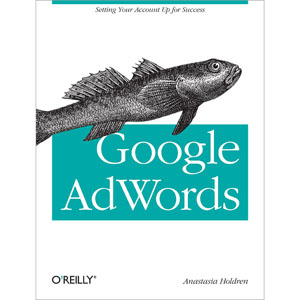 Do people really click the handful of text ads that accompany Google search results? Absolutely. Growth of Google AdWords continues to increase, as does online advertising in the United States. This book shows you how each piece of Google's advertising platform works, focusing on areas that impact the performance and cost of your ad campaigns.
Learn how to create an AdWords account, and then dive into the particulars of setting up your first campaign, optimizing keywords, writing effective ads, and tracking conversions. Most advertisers don't understand how AdWords works. This book gives you an edge.
Learn the advantages of proper account structure based on tightly knit themes
Understand AdWords auction and the importance of keyword Quality Score
Determine your preferred bidding model and daily ad budget
Evaluate campaign performance by timeframe, keyword, and other criteria
Hone your keyword list whenever search queries trigger your ads
Add negative keywords to filter out irrelevant queries
Outperform competitors and organic search results with targeted ad copy
Determine conversion goals, and use AdWords tools to track them
Table of Contents
Chapter 1. Getting Started
Chapter 2. Account Structure
Chapter 3. Navigating Your Account
Chapter 4. Campaign Settings
Chapter 5. Understanding the Auction
Chapter 6. Keywords
Chapter 7. Writing Ads
Chapter 8. Making Ads Stand Out
Chapter 9. The Google Display Network
Chapter 10. Additional Ad Formats
Chapter 11. Bids, Budgets, and Billing
Chapter 12. Measuring Success
Book Details
Paperback: 192 pages
Publisher: O'Reilly Media (November 2011)
Language: English
ISBN-10: 1449308384
ISBN-13: 978-1449308384
Download [31.7 MiB]