Gnucash 2.4 Small Business Accounting: Beginner's Guide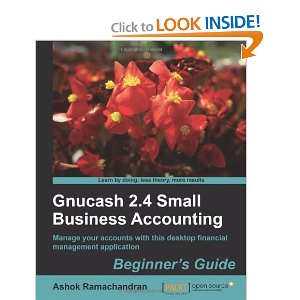 Attention, small business owners! Stop tax-day stress. Stop procrastinating with a shoebox full of receipts. Stop reinventing the wheel with a spreadsheet. Stop making decisions simply on a hunch. Stop wasting money on software that is overkill. Start by downloading GnuCash and getting your accounts in order. Designed to be easy to use, yet powerful and flexible, GnuCash allows you to track bank accounts, income, and expenses. As quick and intuitive to use as a checkbook register, it is based on professional accounting principles to ensure balanced books and accurate reports. You can do it and Gnucash 2.4 Small Business Accounting Beginner's Guide will help you get up and running with maintaining your accounts.
Gnucash 2.4 Small Business Accounting Beginner's Guide speaks business language, not accountant-speak, because it is written by a former small business owner. It guides you to use GnuCash from scratch with step-by-step tutorials without jargon, pointing out the gotchas to avoid with lots of tips. It will teach you to work on routine business transactions while migrating transaction data from other applications gradually. You will be able to keep on top of transactions and run reports after reading just three chapters!
Beyond Chapter 3, it is up to you how far you want to go. Reconcile with your bank and credit card statements. Charge and pay sales tax. Do invoicing. Track payments due. Set up reminders for bills. Avoid stress at tax time. Print checks. Capture expenses using your mobile phone.
Gnucash 2.4 Small Business Accounting Beginner's Guide gives you the power. Know your numbers. Make decisions with confidence. Drive your business to its full potential.
Get your accounts in order and avoid tax-day stress with this hands-on guide to GnuCash, the best free accounts software in the world
What you will learn from this book :
Handle routine transactions with ease, such as creating and processing customer invoices, vendor bills, and employee expense vouchers
Use your bank and credit card statements to double-check your accounts by doing smart reconciliation
Set up scheduled transactions to automate repetitive work and let GnuCash remind you when bills and payments are due
Create a Trip Planner to reach your business goals using GnuCash budgets so that you can drive your business purposefully
Make tax times less stressful by mapping GnuCash accounts to your income tax schedules
Charge state, county, and local sales tax and print statements to send with payments
Print regular and voucher checks, also with memos, to ensure proper credit as well as for professional appearance
Extend the features of GnuCash to meet the special needs of non-profits
Use your mobile phone to capture expenses on the go
Migrate transaction data from other accounting applications
Integrate with other applications to avoid redundant data entry causing frustration and errors
Use canned reports, customize them, or create your own reports and charts using popular spreadsheet software
Approach
This book is a comprehensive beginner's guide that teaches you to use GnuCash from scratch with jargon-free step-by-step tutorials packed with tips. There are multiple choice questions to make learning more interesting and additional challenges thrown at the more adventurous user for a deep grasp of the topic.
Who this book is written for
This book is written for you – the self-employed, the owner, partner or leader of micro-enterprises, home businesses, Small Office/Home Office (SOHO), and other small businesses – to help you maintain your books of accounts using GnuCash. This book is also for you – office-bearers of non-profits and students who want to learn accounting hands-on. If you are using a spreadsheet to maintain your business books and are wasting time, or you are handing over a shoe box of receipts to your high-priced accountant or are using another accounting application that is overkill for small business, get this book and download GnuCash.
Book Details
Paperback: 324 pages
Publisher: Packt Publishing (February, 2011)
Language: English
ISBN-10: 1849513864
ISBN-13: 978-1849513869
Download [6.7 MiB]