Getting Started with Metro Apps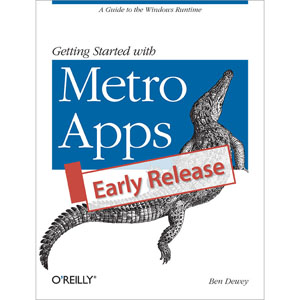 With this digital Early Release edition of Getting Started with Metro Apps, you get the entire book bundle in its earliest form – the author's raw and unedited content – so you can take advantage of this content long before the book's official release. You'll also receive updates when significant changes are made, as well as the final ebook version.
Get a head start on creating "Metro"-style apps for the approaching release of Windows 8. If you're new to .NET programming, this introductory guide will quickly get you up to speed on the tools you need to build user interfaces with Microsoft's new design language, code-named Metro. Learn how to use WinRT and the preview version of the upcoming Visual Studio release, and get tips and tricks for having your app published in the Windows Store.
Windows 8 brings some dramatic changes to the way users interact with computers and devices, and the Metro design language plays a key role. Whether you're an experienced .NET developer, or build apps with HTML and Javascript, this book gets you in on the ground floor.
Table of Contents
Chapter 1. Windows 8: A Quick Tour
Chapter 2. Getting Started
Chapter 3. Application Architecture
Book Details
Paperback: 100 pages
Publisher: O'Reilly Media (July 2012)
Language: English
ISBN-10: 1449320554
ISBN-13: 978-1449320553
Download [5.8 MiB]