Getting Started with Oracle Event Processing 11g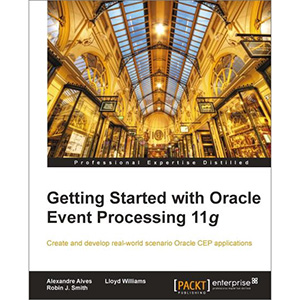 Events are everywhere, events which can have positive or negative impacts on our lives and important business decisions. These events can impact a company's success, failure, and profitability. Technology now allows people from all walks of life to create Event Driven applications that will immediately and completely respond to the events that affect you and your business. So you are much more responsive to your customers, and competitive threats, and can take advantage of transient time sensitive situations.
"Getting Started with Oracle Event Processing" will let you benefit from the skills and years of experience from the original pioneers who were the driving force behind this immensely flexible, complete, and award winning Event Stream Processing technology. It provides all of the information needed to rapidly deliver and understand Event Driven Architecture (EDA) Applications. These can then be executed on the comprehensive and powerful integral Java Event Server platform which utilizes the hardware and operating system.
After an introduction into the benefits and uses of Event Stream Processing, this book uses tutorials and practical examples to teach you how to create valuable and rewarding Event Driven foundational applications. First you will learn how to solve Event Stream Processing problems, followed by the fundamentals of building an Oracle Event processing application in a step by step fashion. Exciting and unique topics are then covered: application construction, the powerful capabilities of the Oracle Event Processing language, CQL, monitoring and managing these applications, and the fascinating domain of real-time Geospatial Movement Analysis. Getting Started with Oracle Event Processing will provide a unique perspective on product creation, evolution and a solid understanding on how to effectively use the product.
What you will learn from this book
Immerse yourself and quickly understand the world of real-time event stream processing.
Get to grips with Event-Driven Architecture and event processing applications in minutes.
Be educated by the experts on Event Processing Network modeling and the best approaches on how to create and modify them.
Understand the power of the Continuous Query Language (CQL) and the right patterns for implementation so that you can achieve the best performance results.
Monitor and track the movement of people and resources using the unique capabilities provided by the integrated Oracle Spatial technology
Prepare for the future, familiarize yourself with the direction of Oracle Event Processing and get some hints and tips on what to should be research to keep ahead of the game
Learn how to perform pattern matching on events using the ANSI accepted CQL extensions.
Learn how to scale Oracle event processing applications using technologies such as JMS and Oracle Coherence Cache.
Approach
This getting started book will use practical chapters which follow logical and progressively more complex tasks and examples, which will impart the skills of how to use Oracle Complex Event Processing to the reader.
Who this book is for
This book is aimed at both those with some knowledge of java and SQL database experience, but it is also written so that if you are completely new to this topic you will understand this new technology domain no matter your background or industry.
Book Details
Paperback: 340 pages
Publisher: Packt Publishing (March 2013)
Language: English
ISBN-10: 1849684545
ISBN-13: 978-1849684545
Download [51.0 MiB]