Extreme Money: Masters of the Universe and the Cult of Risk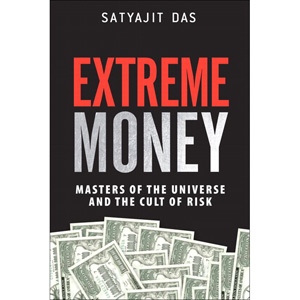 The human race created money and finance: then, our inventions recreated us. In Extreme Money, best-selling author and global finance expert Satyajit Das tells how this happened and what it means. Das reveals the spectacular, dangerous money games that are generating increasingly massive bubbles of fake growth, prosperity, and wealth–while endangering the jobs, possessions, and futures of virtually everyone outside finance.
"…virtually in a category of its own — part history, part book of financial quotations, part cautionary tale, part textbook. It contains some of the clearest charts about risk transfer you will find anywhere. …Others have laid out the dire consequences of financialisation ("the conversion of everything into monetary form", in Das's phrase), but few have done it with a wider or more entertaining range of references…[Extreme Money] does… reach an important, if worrying, conclusion: financialisation may be too deep-rooted to be torn out. As Das puts it — characteristically borrowing a line from a movie, Inception — "the hardest virus to kill is an idea".
-Andrew Hill "Eclectic Guide to the Excesses of the Crisis" Financial Times (August 17, 2011)
Extreme Money named to the longlist for the 2011 FT and Goldman Sachs Business Book of the Year award.
From the Back Cover
"A true insider's devastating analysis of the financial alchemy of the last 30 years and its destructive consequences. With his intimate first-hand knowledge, Das takes a knife to global finance and financiers to reveal the inner workings without fear or favor."
–Nouriel Roubini, Professor of Economics at NYU Stern School of Business and Chairman of Roubini Global Economics
"Das describes the causes of the financial crisis with the insight and understanding of a financial wizard, the candor and objectivity of an impartial observer, and a wry sense of humor that reveals the folly in it all."
–Brooksley Born, Former Chairperson of the U.S. Commodity Futures Trading Commission (CFTC)
"This is the best book yet to come out of the financial crisis. Das is a graceful, witty writer, with an unusually broad range of reference. He is also a long-time master of the arcana of the netherworlds of finance and nicely balances historical sweep with illuminating detail. Extreme Money is lively, scathing, and wise. "
–Charles Morris, Author of The Two Trillion Dollar Meltdown: Easy Money, High Rollers, and the Great Credit Crash
"Like Hunter S. Thompson's Fear and Loathing in Las Vegas, Extreme Money launches you into a fascinating and disturbing alternative view of reality. But now greed predominates, the distorted world of finance is completely global, and the people making crazy decisions can ruin us all. This is an informative, entertaining, and deeply scary account of Hades's new realm. Read it while you can. "
–Simon Johnson, Ronald A. Kurtz Professor of Entrepreneurship at MIT Sloan School of Management and Author of 13 Bankers: The Wall Street Takeover and the Next Financial Meltdown
"You know when Lewis Caroll, Max Weber, Alan Greenspan, and Sigmund Freud all appear on the same early page that you are about to read an intellectual tour de force. Das is an authoritative and colorful critic of modern markets, and here he weaves financial history and popular culture into an entertaining and blistering social critique of how so many people have come to chase endless financial reflections of the real economy. Extreme Money speaks truth to power. "
–Frank Partnoy, George E. Barrett Professor of Law and Finance at the University of San Diego and Author of F.I.A.S.C.O, Infectious Greed, and The Match King
The human race created money and finance. But our inventions re-create us. Mankind mistook money–a lubricant of society and human well-being–for an end in itself. Finance, the monetary shadow of real things, came to dominate human reality. Extreme Money tells the story of how this happened–and, in so doing, it tells the story of the modern world.
Bestselling author Satyajit Das draws on 33 years of personal experience at the heart of modern global finance to narrate this story. Das reveals the spectacular, dangerous money games that have generated increasingly massive bubbles of fake growth, Ponzi prosperity, sophistication, and wealth–while endangering the jobs, possessions, and futures of virtually everyone outside the financial industry.
You'll learn how everything from home mortgages to climate change has become financialized, as vast fortunes are generated by individuals who build nothing of lasting value. Das shows how "extreme money" has become ever more unreal; how "voodoo banking" continues to generate massive phony profits even now; and how a new generation of "Masters of the Universe"
has come to dominate the world.
The new financial fundamentalism: false gods, false prophets
Faith in money, faith in risk, faith in shadows
The cult of risk and the growth engine that isn't
How financial engineering replaced real engineering and illusions replaced reality
Financial alchemy and the "Doomsday Debt Machine"
The rise of the global financial machine we cannot escape
The new global oligarchy–and the nihilistic games they play
Too smart, too fast, too greedy, too self-absorbed–and far too dangerous
Book Details
Hardcover: 480 pages
Publisher: FT Press (August 2011)
Language: English
ISBN-10: 0132790076
ISBN-13: 978-0132790079
Download [11.1 MiB]