Expert Oracle RAC 12c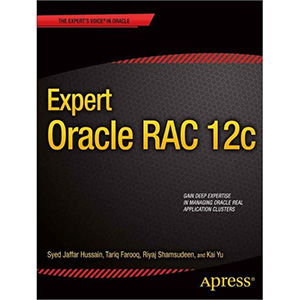 Expert Oracle RAC 12c is a hands-on book helping you understand and implement Oracle Real Application Clusters (RAC), and to reduce the total-cost-of-ownership (TCO) of a RAC database. As a seasoned professional, you are probably aware of the importance of understanding the technical details behind the RAC stack. This book provides deep understanding of RAC concepts and implementation details that you can apply toward your day-to-day operational practices. You'll be guided in troubleshooting and avoiding trouble in your installation. Successful RAC operation hinges upon a fast-performing network interconnect, and this book dedicates a chapter solely to that very important and easily overlooked topic.
All four authors are experienced RAC engineers with a wealth of hard-won experience encountering and surmounting the challenges of running a RAC environment that delivers on its promise. In Expert Oracle RAC 12c they provide you a framework in which to avoid repeating their hard-won lessons. Their goal is for you to manage your own RAC environment with ease and expertise.
Provides a deep conceptual understanding of RAC
Provides best practices to implement RAC properly and match application workload
Enables readers to troubleshoot RAC with ease
What you'll learn

Know when to apply RAC, and when not to
Design applications to take advantage of RAC
Troubleshoot and solve clusterware problems
Manage database backup and recovery in RAC
Stay on top of locking issues and deadlock detection
Harness the performance from parallel processing in RAC
Support your RAC environment with a healthy network interconnect
Who this book is for
Expert Oracle RAC 12c is for experienced Oracle Database Administrators (DBAs) who are ready to take the next step in their career by expanding their skill set to include building and managing Oracle Real Application Clusters (RAC). DBAs and architects who are in the process of implementing RAC can immensely benefit from this book. It's an excellent choice for DBAs to learn RAC conceptually, understand best practices, and become experts in troubleshooting RAC problems.
Table of Contents
Chapter 1. Overview of Oracle RAC
Chapter 2. Clusterware Stack Management and Troubleshooting
Chapter 3. RAC Operational Practices
Chapter 4. New Features in RAC 12c
Chapter 5. Storage and ASM Practices
Chapter 6. Application Design Issues
Chapter 7. Managing and Optimizing a Complex RAC Environment
Chapter 8. Backup and Recovery in RAC
Chapter 9. Network Practices
Chapter 10. RAC Database Optimization
Chapter 11. Locks and Deadlocks
Chapter 12. Parallel Query in RAC
Chapter 13. Clusterware and Database Upgrades
Chapter 14. RAC One Node
Book Details
Paperback: 464 pages
Publisher: Apress (August 2013)
Language: English
ISBN-10: 1430250445
ISBN-13: 978-1430250449
Download [17.0 MiB]