Essential Scrum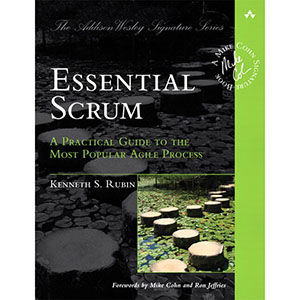 A Practical Guide to the Most Popular Agile Process
The Single-Source, Comprehensive Guide to Scrum for All Team Members, Managers, and Executives
If you want to use Scrum to develop innovative products and services that delight your customers, Essential Scrum is the complete, single-source reference you've been searching for. Leading Scrum coach and trainer Kenny Rubin illuminates the values, principles, and practices of Scrum, and describes flexible, proven approaches that can help you implement it far more effectively.
Whether you are new to Scrum or years into your use, this book will introduce, clarify, and deepen your Scrum knowledge at the team, product, and portfolio levels. Drawing from Rubin's experience helping hundreds of organizations succeed with Scrum, this book provides easy-to-digest descriptions enhanced by more than two hundred illustrations based on an entirely new visual icon language for describing Scrum's roles, artifacts, and activities.
Essential Scrum will provide every team member, manager, and executive with a common understanding of Scrum, a shared vocabulary they can use in applying it, and practical knowledge for deriving maximum value from it.
Review
"Agile coaches, you're gonna be happy with this book. Kenny Rubin has created an indispensable resource for us. Do you have a manager that just doesn't 'get it'? Hand them this book and ask them to flip to Chapter 3 for a complete explanation of how Scrum is less risky than plan-driven management. It's written just for them–in management-speak. Want to help the team come to a common understanding of Scrum? The visual icon language used throughout this book will help you help them. These are just two ways this book can aid you to coach Scrum teams. Use it well."
–Lyssa Adkins, Coach of Agile Coaches, Agile Coaching Institute; author, Coaching Agile Teams
"One of the best, most comprehensive descriptions of the core Scrum framework out there! Essential Scrum is for anyone–new to or experienced with Scrum–who's interested in the most important aspects of the process. Kenny does an excellent job of distilling the key tenets of the Scrum framework into a simple format with compelling visuals. As a Scrum coach for many teams, I continually reference the material for new ways to help teams that are learning and practicing the framework. I've seen Scrum continually misinterpreted and poorly implemented by big companies and tool vendors for more than ten years. Reading this book will help you get back to the basics and focus on what's important."
–Joe Balistrieri, Process Development Manager, Rockwell Automation
"Corporate IT leadership, which has been slow to embrace agile methods, would benefit immensely from giving a copy of this book to all of their project and delivery managers. Kenny Rubin has laid out in this book all the pragmatic business case and process materials needed for any corporate IT shop to successfully implement Scrum."
–John F. Bauer III, veteran of technical solution delivery in large corporate IT shops
"Kenny's extensive experience as a consultant, trainer, and past managing director of the Scrum Alliance is evident in this book. Along with providing the basics and introduction to Scrum, this book addresses the questions of masses–what happens to project managers? Essential Scrum helps us understand the big picture and guides how organization leaders can support and be involved with their Scrum teams for successful agile transformations."
–Sameer S. Bendre CSM, PMP, Senior Consultant, 3i Infotech Inc.
"If you're new to agile development or to Scrum, this book will give you a flying start. The examples and descriptions are clear and vivid, and you'll often find yourself asking a question just before the book addresses that very topic."
–Johannes Brodwall, Principal Solution Architect, Steria Norway
"Kenny's well-structured explanations have a clarity to them that echoes the sensibilities of Smalltalk–the development environment with which he worked for years and from which both Scrum and Extreme Programming were born. This book pulls together a thorough set of agile management principles that really hit the mark and will no doubt guide you toward a more effective agile approach."
–Rowan Bunning, Founder, Scrum WithStyle
"There are lots of books on Scrum these days, but this book takes a new angle, a reality check for software practitioners. Kenny uses real-world examples and clear illustrations to show what makes a solid foundation for successful agile development. Readers will understand the value of building quality in, and the reality that we can't get everything right up front; we must work incrementally and learn as we go. It might have 'Scrum' in the title, but the book leverages effective practices from the larger agile universe to help managers and their teams succeed."
–Lisa Crispin, coauthor, Agile Testing
"Kenny Rubin managed to write the book that I want everyone associated with Scrum development to read! He covers everything you'll need to know about Scrum and more!"
–Martine Devos, European Scrum Pioneer and Certified Scrum Trainer
"I've reviewed a number of agile books in the past few years, so the question of 'Do we really need another one?' always comes to my mind. In the case of Kenny's book, I very much believe the answer is 'yes.' Getting the benefit of different, experienced perspectives on commonly encountered and needed material is valuable. Kenny has one of those valuable perspectives. One unique aspect of the book is an interesting 'iconography'–a new icon language for Scrum and agile that Kenny has created. I believe you'll find value-added material in this book to expand your ideas for how Scrum can be applied."
–Scott Duncan, Agile/Scrum coach and trainer
"Anyone who has had Scrum training or has been part of a Scrum team will find Essential Scrum to be a great follow-up read. It dives into the details of how to become more agile through implementing Scrum processes, and it explains exactly how to break down complex projects into manageable initiatives (or 'sprints'). Kenny Rubin provides a wealth of relevant case studies on what worked–or what didn't–in a variety of organizations. The simple layout and businesslike graphics make it easy to scan quickly and find specific topics. Any organization that is seeking to evolve from a traditional waterfall approach toward a more agile methodology will find Essential Scrum a definitive guidebook for the journey."
–Julia Frazier, product manager
"Developing software is hard. Adopting a new way of working while in a project is even harder. This book offers a bypass of many of the pitfalls and will accelerate a team's ability to produce business value and become successful with Scrum. I wish I had this kind of book when I started using Scrum."
–Geir Hedemark, Development Manager, Basefarm AS
"I am convinced that Essential Scrum will become the foundation reference for the next generation of Scrum practitioners. Not only is it the most comprehensive introduction to Scrum in publication today, but it is also extremely well written and easy on the eye with its fantastic new visual Scrum language. If that isn't enough, Kenny shares a range of his valuable personal insights and experiences that we can all certainly learn from."
–Ilan Goldstein, Agile Solutions Manager, Reed Elsevier
"Scrum is elegantly simple, yet deceptively complex. In Essential Scrum, Kenny Rubin provides us with a step-by-step guide to those complexities while retaining the essential simplicity. Real-world experiences coupled with enlightening illustrations make Scrum come to life. For senior managers and team members alike, this is a must-read book if you are starting or considering whether to implement Scrum in your organization. This will certainly be a book recommended to my students."
–John Hebley, Hebley & Associates
"Kenny unpacks a wealth of wisdom and knowledge in Essential Scrum, providing valuable and comprehensive insights to the practical application of agile/Scrum. Whether you're new to agile or are looking to reach a greater maturity of continuous improvement in your organization, this is a definitive handbook for your toolbox."
–David Luzquiños, Head of Agile Enablement, Agile Coach, Betfair
"Kenny Rubin continues to provide clarity and insight into adopting agile in a pragmatic way. In one hand he holds the formal or ideal Scrum definition and in the other, the pragmatic application of it. He brings the wisdom of his workshops and years of experience to the table, and now for you to read in his latest book. If you are about to start out on your agile adoption journey or are seeking guidance midcourse, grab a copy."
–Cuan Mulligan, freelance coactive Agile coach
"A decade after publication of the first Scrum books, it is time to combine the essential aspects of the Scrum framework with the practical experiences and approaches of the last ten years. Kenny Rubin does so in a satisfying and nondogmatic way. The reader gets a pragmatic look at Scrum and learns when and how to best apply Scrum to achieve business benefits."
–Yves Stalgies, PhD, Director IT, www.etracker.com
"Adoption of Scrum is most successful when everyone involved–even peripherally–with product development has a good understanding of the fundamentals. Essential Scrum provides an ideal overview of both the big picture and the details in an accessible style. It is sure to become a standard reference."
–Kevin Tureski, Principal, Kevin Tureski Consulting
Table of Contents
Chapter 1. Introduction
Part I: Core Concepts
Chapter 2. Scrum Framework
Chapter 3. Agile Principles
Chapter 4. Sprints
Chapter 5. Requirements and User Stories
Chapter 6. Product Backlog
Chapter 7. Estimation and Velocity
Chapter 8. Technical Debt
Part II: Roles
Chapter 9. Product Owner
Chapter 10. ScrumMaster
Chapter 11. Development Team
Chapter 12. Scrum Team Structures
Chapter 13. Managers
Part III: Planning
Chapter 14. Scrum Planning Principles
Chapter 15. Multilevel Planning
Chapter 16. Portfolio Planning
Chapter 17. Envisioning (Product Planning)
Chapter 18. Release Planning (Longer-Term Planning)
Part IV: Sprinting
Chapter 19. Sprint Planning
Chapter 20. Sprint Execution
Chapter 21. Sprint Review
Chapter 22. Sprint Retrospective
Chapter 23. The Path Forward
Book Details
Paperback: 504 pages
Publisher: Addison-Wesley Professional (July 2012)
Language: English
ISBN-10: 0137043295
ISBN-13: 978-0137043293
Download [56.7 MiB]