Enterprise Security: A Data-Centric Approach to Securing the Enterprise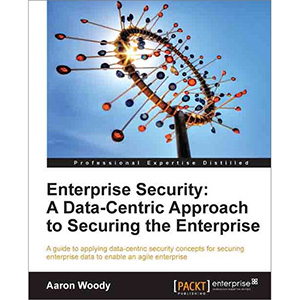 Enterprise security redefined using a data-centric approach and trust models to transform information security into a business enablement process. It is a unique and forward thinking approach for deciding the best method to secure data in the enterprise, the cloud, and in BYOD environments.
"Enterprise Security: A Data-Centric Approach to Securing the Enterprise" will guide you through redefining your security architecture to be more affective and turn information security into a business enablement process rather than a roadblock. This book will provide you with the areas where security must focus to ensure end-to-end security throughout the enterprise-supporting enterprise initiatives such as cloud and BYOD.
"Enterprise Security: A Data-Centric Approach to Securing the Enterprise" will first introduce the reader to a new security architecture model and then explores the must have security methods and new tools that can used to secure the enterprise.
This book will take a data-centric approach to securing the enterprise through the concept of Trust Models and building a layered security implementation focused on data. This is not your traditional security book focused on point solutions and the network aspect of security.
This book combines best practice methods with new methods to approach enterprise security and how to remain agile as the enterprise demands more access to data from traditionally untrusted assets, hosted solutions, and third parties. Applied Information Security – A Data-Centric Approach to Securing the Enterprise will provide the reader an easy-to-follow flow from architecture to implementation, diagrams and recommended steps, and resources for further research and solution evaluation.
This book is a reference and guide for all levels of enterprise security programs that have realized that non-data centric security is no longer practical and new methods must be used to secure the most critical assets in the enterprise.
What you will learn from this book
Enterprise information security challenges and roadmap to success
Data-centric security architecture
Applying security through policies, standards, and processes
Basics of risk analysis, deciding what is valuable and needs to be secured
Layered security approach from data to network edge
Securing wireless implementations
Managing the human element of security through awareness
Security monitoring and incident management
Learn sample forms and process flows for quick and easy use
Approach
It's a reference guide to enterprise security programs.
Who this book is for
This book is intended for the IT security staff beginner to expert but would also be a valuable resource for other IT functions such as IT compliance, IT operations, and executives responsible for managing IT and information security. Understanding the principles in this book is important for decision makers as new business models are developed and enterprise security must keep up to reduce risk and secure critical enterprise assets and data.
Book Details
Paperback: 324 pages
Publisher: Packt Publishing (February 2013)
Language: English
ISBN-10: 1849685967
ISBN-13: 978-1849685962
Download [7.1 MiB]