Drupal for Designers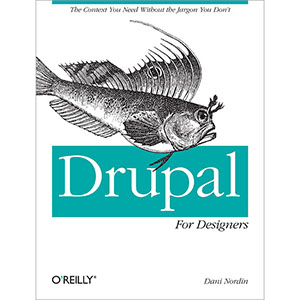 Are you a solo web designer or part of a small team itching to build interesting projects with Drupal? This hands-on book provides the tools and techniques to get you going. Award-winning designer Dani Nordin guides you through site planning, teaches you how to create solid, user-centered design for the Drupal framework, and shows you tricks for using real, honest-to-goodness, developer Ninja Magick.
This book is a compilation of three short guides—Planning Drupal Projects, Design and Prototyping for Drupal, and Drupal Development Tricks for Designers—plus exclusive "director's material." If you're familiar with HTML and CSS, but struggling with Drupal's learning curve, this is the book you've been looking for.
Learn how to work user-centered design practices into Drupal projects
Choose the right modules for your project, and discover several go-to modules
Use strategies for sketching, wireframing, and designing effective layouts
Manage Drupal's markup, including code generated by the powerful Views module
Learn how to work with Drupal on the command line
Set up your development environment and collaborate with other designers and developers
Learn the basics of Git, the free open source version control system
Table of Contents
Chapter 1. Some Things to Remember About Working with Drupal
Part I: Discovery and User Experience
Chapter 2. Setting the Stage—Discovery and User Experience
Chapter 3. User Experience—Techniques for Drupal
Chapter 4. Putting It in Practice—A Short-Form Project Brief
Part II: Sketching, Visual Design, and Layout
Chapter 5. Sketch Many, Show One
Chapter 6. Working with Layout Grids
Chapter 7. Putting It in Practice—Setting Up Fireworks Templates for Drupal
Part III: Setting Up a Local Development Environment
Chapter 8. The Drupal Designer's Coding Toolkit
Chapter 9. Installing Drush
Chapter 10. Getting Started with Git
Chapter 11. Putting It in Practice—Setting Up a Local Development Environment and Installing Drupal
Part IV: Prototyping in Drupal
Chapter 12. Prototyping in Drupal
Chapter 13. Choosing Modules
Chapter 14. Making Views Sing—Using Views to Enhance a Layout
Chapter 15. Making Views Sing—Controlling Views Markup
Chapter 16. Getting Started with Drupal Theming: Base and Child Themes
Chapter 17. Making CSS Easier with LESS
Part V: Making It Easier to Start Projects
Chapter 18. Using Features
Chapter 19. Working with Drush Make and Installation Profiles
Part VI: Working with Clients
Chapter 20. Proposing and Estimating Projects
Chapter 21. Getting Clients to Love You, Even When You Have to Tell Them "No"
Chapter 22. After the Handoff—The Project Retrospective
Part VII: Sample Documents
Appendix A. Project Brief
Appendix B. Work Agreement (with Professional Relationship Clause)
Appendix C. Project Proposal
Book Details
Paperback: 328 pages
Publisher: O'Reilly Media (July 2012)
Language: English
ISBN-10: 1449325041
ISBN-13: 978-1449325046
Download [39.4 MiB]