Designing Search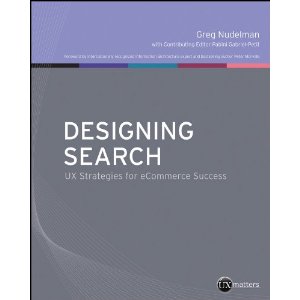 Best practices, practical advice, and design ideas for successful ecommerce search
A glaring gap has existed in the market for a resource that offers a comprehensive, actionable design patterns and design strategies for ecommerce search—but no longer. With this invaluable book, user experience designer and user researcher Greg Nudelman shares his years of experience working on popular ecommerce sites as he tackles even the most difficult ecommerce search design problems. Nudelman helps you create highly effective and intuitive ecommerce search design solutions and he takes a unique forward-thinking look at trends such as integrating searching with browsing to create a single-finding user interface.
Offers much-needed insight on how to create ecommerce search experiences that truly benefit online shoppers
Juxtaposes examples of common design pitfalls against examples of highly effective ecommerce search design solutions
Presents comprehensive guidance on ecommerce search design strategies for the Web, mobile phone applications, and new tablet devices
Shares the author's years of unique experience working with ecommerce from the perspective of the user's experience
Designing ecommerce Search is mandatory reading if you are interested in orchestrating successful ecommerce search strategies.
From the Back Cover
They've found you. Now be sure they can find what they want
People shop online because it's convenient. If your search application doesn't make it easy to find what they want to buy, they'll go somewhere else. It's that simple.
Designing a great search experience, however, isn't that simple. You need this book, full of UX design strategies and patterns that have been carefully developed, researched, and tested for success. Use them, and your customers will buy more, leave your store happier, and tell their friends and social networks about the positive experience they had using your site or mobile app.
Don't just add new features — create memorable, delightful search experiences
Turn "no search results" pages into new sales opportunities
Discover why shoppers behave as they do
Use "more like this" search to help your customers make quick decisions
Design intuitive search interactions using faceted search filters
Use contextual mobile search to create portable ecommerce solutions
Take full advantage of the unique design challenges and capabilities of tablet devices
Learn from case studies that put the design concepts into practice
Use novel search design patterns to trounce your competition
Go to http://www.designcaffeine.com/designingsearch/ for a bonus chapter introducing designing search features for ecommerce help systems and an appendix highlighting crucial best practices!
Book Details
Paperback: 368 pages
Publisher: Wiley (May 2011)
Language: English
ISBN-10: 0470942231
ISBN-13: 978-0470942239
Download [17.9 MiB]