CSS Pocket Reference, 3rd Edition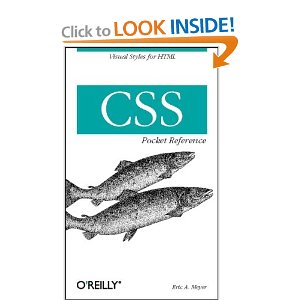 They say that good things come in small packages, and it's certainly true for this edition of CSS Pocket Reference. Completely revised and updated to reflect the latest Cascading Style Sheet specifications in CSS 2.1, this indispensable little book covers the most essential information that web designers and developers need to implement CSS effectively across all browsers.
Inside, you'll find:
A short introduction to the key concepts of CSS
A complete alphabetical reference to all CSS 2.1 selectors and properties
A chart displaying detailed information about CSS support for every style element and its cross-browser compatibility
This reference neatly condenses the details of its top-selling companion volume, Cascading Style Sheets: The Definitive Guide into one easy-to-use cheat-sheet that delivers all the CSS details you need to complete the task at hand. Whenever you're stuck and need an answer quickly — or if you just want to be sure you're applying CSS correctly — this edition of the CSS Pocket Reference is the book you'll want by your keyboard or, conveniently, in your back pocket.
About the Author
Eric A. Meyer is the author of the critically acclaimed online tutorialIntroduction to HTML, as well as some other semi-popular Web pages. He is a member of the CSS&FP Working Group and the author of Cascading Style Sheets: The Definitive Guide.
Book Details
Paperback: 170 pages
Publisher: O'Reilly Media; 3rd Edition (October 2007)
Language: English
ISBN-10: 9780596515058
ISBN-13: 978-0596515058
Download [576.6 KiB]