CompTIA Security+ SY0-301 Authorized Exam Cram, 3rd Edition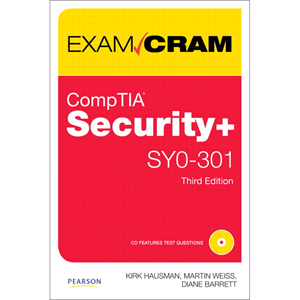 CompTIA® Security+ Exam Cram, Third Edition, is the perfect study guide to help you pass CompTIA's newly updated version of the Security+ exam. It provides coverage and practice questions for every exam topic. The book contains a set of 200 questions in two full practice exams. The CD-ROM contains the powerful Pearson IT Certification Practice Test engine that provides real-time practice and feedback with all the questions so you can simulate the exam.
Covers the critical information you need to know to score higher on your Security+ exam!
Master and implement general security best practices
Systematically identify threats and risks to your systems
Harden systems by eliminating nonessential services
Secure your communications, networks, and infrastructure
Systematically identify and protect against online vulnerabilities
Implement effective access control and authentication
Create security baselines and audit your security infrastructure
Understand cryptographic principles, and effectively deploy cryptographic solutions
Organize security from both a technical and organizational standpoint
Manage every facet of security, including education and documentation
Understand the laws related to IT security, and the basics of forensic investigations
Kirk Hausman (CISSP, CISA, CRISC, Security+) has worked as an ISO, consultant, trainer, and IT director. He is Assistant Commandant for IT at TAMU and teaches InfoSec topics as an Adjunct Professor at UMUC and UAT.
Martin Weiss (CISSP, CISA, Security+, MCSE) leads a team of information security experts at Symantec supporting solutions to provide confidence in a connected world.
Diane Barrett (CISSP, MCSE, A+, Security+) is the director of training for Paraben Corporation and an adjunct professor for American Military University.
Book Details
Paperback: 552 pages
Publisher: Pearson IT Certification; 3rd Edition (December 2011)
Language: English
ISBN-10: 0789748290
ISBN-13: 978-0789748294
Download [21.2 MiB]