CompTIA Network+ Lab Manual, 3rd Edition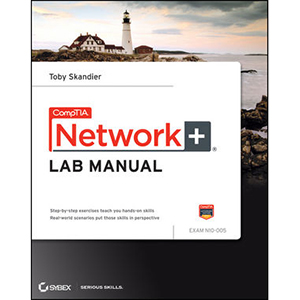 Gain street-smart skills in network administration
Think of the most common and challenging tasks that network administrators face, then read this book and find out how to perform those tasks, step by step. CompTIA Network + Lab Manual provides an inside look into the field of network administration as though you were actually on the job. You'll find a variety of scenarios and potential roadblocks, as well as clearly mapped sections to help you prepare for the CompTIA Network+ Exam N10-005. Learn how to design, implement, configure, maintain, secure, and troubleshoot a network with this street-smart guide.
Provides step-by-step instructions for many of the tasks network administrators perform on a day-to-day basis, such as configuring wireless components; placing routers and servers; configuring hubs, switches, and routers; configuring a Windows client; and troubleshooting a network
Addresses the CompTIA Network+ Exam N10-005 objectives and also includes a variety of practice labs, giving you plenty of opportunities for hands-on skill-building
Organized by the phases of network administration: designing a network, implementing and configuring it, maintenance and security, and troubleshooting
Study, practice, and review for the new CompTIA Network+ N10-005 Exam, or a networking career, with this practical, thorough lab manual.
From the Back Cover
A Practical, Task-Based Approach to Exam Prep
If you're preparing for CompTIA's Network+ Exam (N10-005), you'll want to take advantage of all the exercises in this practical lab manual. Covering all phases of network administration and all Network+ Exam objectives, this valuable learning tool features dozens of step-by-step exercises designed to give you real-world, hands-on practice. Get thoroughly prepared for the exam—and a career—with challenging tasks that include:
Designing and drawing an internetwork
Identifying devices and components
Differentiating Ethernet devices
Planning for static and dynamic routing
Configuring wireless components
Implementing Bluetooth
Simulating T1 CSU/DSUs
Creating local user and group accounts
Implementing file-level encryption
Running antivirus, antispyware, and vulnerability scans
Using ARP, NETSTAT, Ping, Traceroute, and other utilities
Displaying computer event logs
Step-by-step exercises teach you hands-on skills
Real-world scenarios put those skills in perspective
Book Details
Paperback: 480 pages
Publisher: Sybex; 3rd Edition (February 2012)
Language: English
ISBN-10: 1118148630
ISBN-13: 978-1118148631
Download [26.6 MiB]