Cloud Computing Bible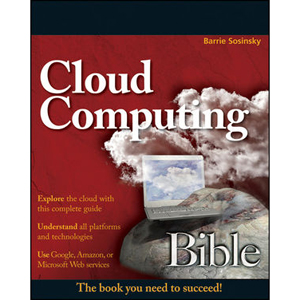 The complete reference guide to the hot technology of cloud computingIts potential for lowering IT costs makes cloud computing a major force for both IT vendors and users; it is expected to gain momentum rapidly with the launch of Office Web Apps later this year. Because cloud computing involves various technologies, protocols, platforms, and infrastructure elements, this comprehensive reference is just what you need if you'll be using or implementing cloud computing.
Cloud computing offers significant cost savings by eliminating upfront expenses for hardware and software; its growing popularity is expected to skyrocket when Microsoft introduces Office Web Apps
This comprehensive guide helps define what cloud computing is and thoroughly explores the technologies, protocols, platforms and infrastructure that make it so desirable
Covers mobile cloud computing, a significant area due to ever-increasing cell phone and smartphone use
Focuses on the platforms and technologies essential to cloud computing
Anyone involved with planning, implementing, using, or maintaining a cloud computing project will rely on the information in Cloud Computing Bible.
From the Back Cover
A thorough, down-to-earth look at cloud computing
The chance to lower IT costs makes cloud computing a hot topic, and it's getting hotter all the time. If you want a terra firma take on everything you should know about the cloud, this book is it. Starting with a clear definition of what cloud computing is, why it is, and its pros and cons, Cloud Computing Bible is a wide-ranging and complete reference. You'll get thoroughly up to speed on cloud platforms, infrastructure, services and applications, security, and much more.
Learn what cloud computing is and what it is not
Assess the value of cloud computing, including licensing models, ROI, and more
Understand abstraction, partitioning, virtualization, capacity planning, and various programming solutions
See how to use Google®, Amazon®, and Microsoft® Web services effectively
Explore cloud communication methods — IM, Twitter®, Google Buzz, Facebook®, and others
Discover how cloud services are changing mobile phones — and vice versa
Explore the cloud with this complete guide
Understand all platforms and technologies
Use Google, Amazon, or Microsoft Web services
Book Details
Paperback: 528 pages
Publisher: Wiley (January 2011)
Language: English
ISBN-10: 0470903562
ISBN-13: 978-0470903568
Download [31.8 MiB]