Cloud Capacity Management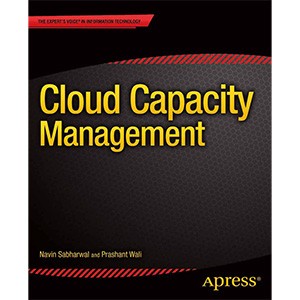 Cloud Capacity Management helps readers in understanding what the cloud, IaaS, PaaS, SaaS are, how they relate to capacity planning and management  and which stakeholders are involved in delivering value in the cloud value chain. It explains the role of capacity management for a creator, aggregator, and consumer of cloud services and how to provision for it in a 'pay as you use model'.
This involves a high level of abstraction and virtualization to facilitate rapid and on demand provisioning of services. The conventional IT service models take a traditional approach when planning for service capacity to provide optimum services levels which has huge cost implications for service providers.
This book addresses the gap areas between traditional capacity management practices and cloud service models. It also showcases capacity management process design and implementation in a cloud computing domain using ITSM best practices. This book is a blend of ITSM best practices and infrastructure capacity planning and optimization implementation in various cloud scenarios.
Cloud Capacity Management addresses the basics of cloud computing, its various models, and their impact on capacity planning. This book also highlights the infrastructure capacity management implementation process in a cloud environment showcasing inherent capabilities of tool sets available and the various techniques for capacity planning and performance management. Techniques like dynamic resource scheduling, scaling, load balancing, and clustering etc are explained for implementing capacity management.
What you'll learn
Cloud computing and virtualization basics and models
Cloud service delivery models and service providers value chain explained in depth
A practical approach for capacity planning in cloud environments
Capacity management implementation procedures and guidelines specifically designed for cloud environments
Who this book is for
This book would be of help to technical consultants involved in virtualization, capacity managers, capacity analysts, cloud architects, ITIL consultants, practitioners, cloud developers and cloud consultants.
Service level managers, technical managers, IT managers, process analyst and process consultants may also find this book helpful for guidance on the protocols involved.
Table of Contents
Chapter 1. Understanding Cloud Computing
Chapter 2. Cloud Stakeholders and Value Chain
Chapter 3. Technology that Drives the Cloud
Chapter 4. Introduction to Capacity Management
Chapter 5. Cloud Capacity Management
Chapter 6. Capacity Planning
Chapter 7. Determining Capacity Requirements for New Services
Chapter 8. Capacity Management Design
Chapter 9. Capacity Plan
Chapter 10. Ongoing Capacity Management for Existing or Live Services
Chapter 11. Capacity Monitoring
Chapter 12. Capacity Analysis, Tuning, and Review
Chapter 13. Capacity Management Database and Integrations
Chapter 14. Capacity Management Concepts
Appendix A. Capacity Plan Template
Appendix B. Capacity Implementation Case Study
Book Details
Paperback: 184 pages
Publisher: Apress (July 2013)
Language: English
ISBN-10: 1430249234
ISBN-13: 978-1430249238
Download [10.3 MiB]