Building the Mobile Internet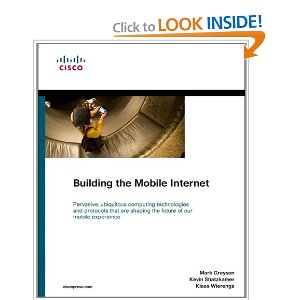 The complete guide to technologies and protocols for delivering seamless mobile Internet experiences
In Building the MobileInternet, three leading mobility architects and implementers from Cisco present complete foundational knowledge about tomorrow's mobile Internet. The authors cover everything from market trends and user expectations to the latest technical approaches for making the Internet "mobile by design."
Writing for senior technology decision-makers and network design professionals, the authors explain the relatively static nature of the Internet's original protocols and design, discuss the concept of "mobility," and identify evolving mobility requirements. Next, they thoroughly explain each of today's most promising techniques for building mobility into the Internet, from data link layer to application layer. For each layer, the authors cover mechanisms, protocols, relevant Wi-Fi and cellular architectures, and key use cases.
Using this book's guidance, mobile network executives can define more effective strategies, network designers can construct more effective architectures, and network engineers can execute more successful migrations.
Understanding key mobility market trends: device proliferation, accelerating consumption, and radio-specific scalability problems
Reviewing the challenges that mobility presents to conventional Internet architectures
Understanding nomadicity, including authentication for users moving across networks and operators
Identifying opportunities to address mobility at the data link layer
Comparing and using network layer solutions to deliver seamless mobility and session continuity
Integrating mobility functionality into the transport/session layer
Adding mobility functionality to the application layer–including support for moving media sessions between devices
Redesigning Internet architecture to enable long-term improvements to mobility
This book is part of the Networking Technology Series from Cisco Press®, which offers networking professionals valuable information for constructing efficient networks, understanding new technologies, and building successful careers.
Book Details
Paperback: 300 pages
Publisher: Cisco Press (January, 2011)
Language: English
ISBN-10: 1587142430
ISBN-13: 978-1587142437
Download [4.1 MiB]