Build a Profitable Online Business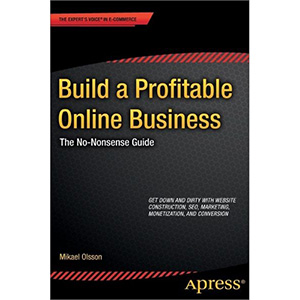 Build a Profitable Online Business: The No Nonsense Guide is a highly condensed step-by-step guide on how to build and run profitable websites.
Serial web entrepreneur Mikael Olsson gives you in a nutshell all the tools, tips, and savvy you'll need to create and operate online businesses that will automatically generate streams of effortless income for you. He shows you all the tricks and shortcuts for building your own amazing website and running your own online business profitably and efficiently, without wasting a nickel or a minute.
You won't find any technical jargon, drawn-out lessons, or feel-good fluff in this book. What you will find is an expert guide that pulls no punches in serving up the clean hits of hard information that any web entrepreneur needs to succeed at all aspects of an online business: website construction, SEO, marketing, monetization, and conversion.
What you'll learn
From Build a Profitable Online Business you'll learn:
How to strategize, design, start up, and operate your own online business.
How to build a professional-quality website with minimal outlay.
How to attract visitors to your website and make them come back for more.
How to monetize your website in 5 different ways.
How to automate your websites to produce constant streams of passive income.
Who this book is for
The primary audience for this book is individual entrepreneurs who want to create successful web businesses with the least expenditure of time and money and run them as automated engines of passive income. The secondary audience is small companies, to which the strategies and techniques presented in the book apply equally well.
This is not a book for people to program or use tools to build a website, so the audience is spared skipping through material that will not be helpful, or is redundant, or not at the correct level for them.
Table of Contents
Part 1: Site Setup
Chapter 1. Site Type and Niche
Chapter 2. Web Hosting
Chapter 3. Domain Name
Chapter 4. Site Structure
Chapter 5. Site Design
Chapter 6. Performance
Chapter 7. Validation
Part 2: Onsite SEO
Chapter 8. Search Engines
Chapter 9. Site SEO
Chapter 10. Keyword Research
Chapter 11. Using Keywords
Chapter 12. Content
Chapter 13. Content Pages
Chapter 14. Navigation
Chapter 15. Navigation Pages
Part 3: Marketing
Chapter 16. Increasing Traffic
Chapter 17. Link Building
Chapter 18. Quality Links
Chapter 19. Artificial Link Building
Chapter 20. Natural Link Building
Chapter 21. Directories
Chapter 22. Social Bookmarking
Chapter 23. Social Networking
Chapter 24. PPC
Part 4: Monetization
Chapter 25. Profit
Chapter 26. Donations
Chapter 27. Advertising
Chapter 28. Affiliates
Chapter 29. Services
Chapter 30. Products
Part 5: Conversions
Chapter 31. Stickiness
Chapter 32. Return Visitors
Chapter 33. Sales Pages
Chapter 34. Credibility
Chapter 35. Credibility Pages
Part 6: Conclusion
Chapter 36. Action Steps
Book Details
Paperback: 184 pages
Publisher: Apress (October 2013)
Language: English
ISBN-10: 1430263792
ISBN-13: 978-1430263791
Download [2.6 MiB]