BIRT: A Field Guide, 3rd Edition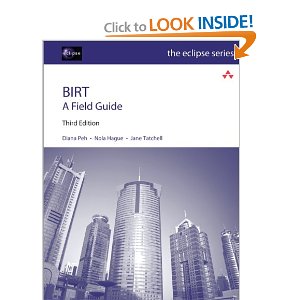 More than ten million people have downloaded BIRT (Business Intelligence and Reporting Tools) from the Eclipse web site, and more than one million developers are estimated to be using BIRT. Built on the open source Eclipse platform, BIRT is a powerful report development system that provides an end-to-end solution–from creating and deploying reports to integrating report capabilities in enterprise applications.
The first in a two-book series about this exciting technology, BIRT: A Field Guide to Reporting, Third Edition, is the authoritative guide to using BIRT Report Designer, the graphical tool that enables users of all levels to build reports, from simple to complex, without programming.
This book is an essential resource for users who want to create presentation-quality reports quickly. The extensive examples, step-by-step instructions, and abundant illustrations help new users develop report design skills. Power users can find the information they need to make the most of the product's rich set of features to build sophisticated and compelling reports.
Readers of this book learn how to
Design effective corporate reports that convey complex business information using images, charts, tables, and cross tabs
Build reports using data from multiple sources, including databases, spreadsheets, web services, and XML documents
Enliven reports with interactive features, such as hyperlinks, tooltips, and highlighting
Create reports using a consistent style, and, drawing on templates and libraries of reusable elements, collaborate with other report designers
Localize reports for an international audience
The third edition, newly revised, adds updated examples, contains close to 1,000 new and replacement screenshots, and covers all the new and improved product features, including
Result-set sharing to create dashboard-style reports
Data collation conforming to local conventions
Using cube data in charts, new chart types, and functionality
Displaying bidirectional text, used in right-to-left languages
Numerous enhancements to cross tabs, page management, and report layout
Book Details
Paperback: 848 pages
Publisher: Addison-Wesley Professional; 3rd Edition (February, 2011)
Language: English
ISBN-10: 9780321733580
ISBN-13: 978-0321733580
Download [10.6 MiB]