Beginning T-SQL with Microsoft SQL Server 2005 and 2008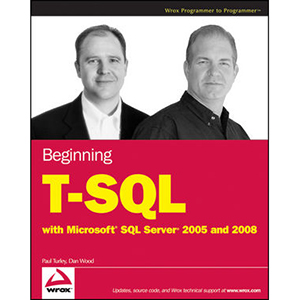 Transact-SQL, or T-SQL, is Microsoft Corporation's powerful implementation of the ANSI standard SQL database query language, which was designed to retrieve, manipulate, and add data to relational database management systems (RDBMS).
You may already have a basic idea of what SQL is used for, but you may not have a good understanding of the concepts behind relational databases and the purpose of SQL. This book will help you build a solid foundation of understanding, beginning with core relational database concepts and continuing to reinforce those concepts with real-world T-SQL query applications.
If you are familiar with relational database concepts but are new to Microsoft SQL Server or the T-SQL language, this book will teach you the basics from the ground up. If you're familiar with earlier versions of SQL Server, it will get you up-to-speed on the newest features. And if you know SQL Server 2005, you'll learn about some exciting new capabilities in SQL Server 2008.
Information Technology professionals in many different roles use T-SQL. Our goal is to provide a guide and a reference for IT pros across the spectrum of operational database solution design, database application development, and reporting and business intelligence solutions.
Database solution designers will find this book to be a thorough introduction and comprehensive reference for all aspects of database modeling, design, object management, query design, and advanced query concepts.
Application developers who write code to manage and consume SQL Server data will benefit from our thorough coverage of basic data management and simple and advanced query design. Several examples of ready-to-use code are provided to get you started and to continue to support applications with embedded T-SQL queries.
Report designers will find this book to be a go-to reference for report query design. You will build on a thorough introduction to basic query concepts and learn to write efficient queries to support business reports and advanced analytics.
Finally, database administrators who are new to SQL Server will find this book to be an all-inclusive introduction and reference of mainstream topics. This can assist you as you support the efforts of other team members. Beyond the basics of database object management and security concepts, we recommend Beginning SQL Server 2005 Administration and Beginning SQL Server 2008 Administration from Wrox, co-authored in part by the same authors.
This book introduces the T-SQL language and its many uses, and serves as a comprehensive guide at a beginner through intermediate level. Our goal in writing this book was to cover all the basics thoroughly and to cover the most common applications of T-SQL at a deeper level. Depending on your role and skill level, this book will serve as a companion to the other Wrox books in the Microsoft SQL Server Beginning and Professional series..
This book will help you to learn:
How T-SQL provides you with the means to create tools for managing databases of different size, scope, and purpose
Various programming techniques that use views, user-defined functions, and stored procedures
Ways to optimize query performance
How to create databases that will be an essential foundation to applications you develop later
Each section of this book organizes topics into logical groups so the book can be read cover-to-cover or can be used as a reference guide for specific topics.
From the Back Cover
Beginning T-SQL with Microsoft® SQL Server® 2005 and 2008
Nearly all business applications read, store, and manipulate data stored in relational databases. If you use Microsoft SQL Server in any way, you need to learn and use T-SQL,?Microsoft's powerful implementation of the ANSI-standard SQL database query language.
This book teaches all of the basics of T-SQL as it's used with SQL Server 2005 and 2008 databases. The authors, leading T-SQL experts, begin with the essentials of SQL Server that are needed to get the most from T-SQL. They then quickly move on to introduce T-SQL itself, including the core elements of data retrieval, SQL functions, aggregation and grouping, and multi-table queries, and they fully explain transaction processing and data manipulation using T-SQL.
The authors also show you how to create and manage T-SQL programming objects, including views, functions, and stored procedures. They detail how to optimize T-SQL query performance and design queries for real-world business applications. All of the methods and techniques in this book can be used with both Microsoft SQL Server 2005 and 2008 databases.
In addition, the book includes a comprehensive set of reference appendices, including T-SQL command syntax, system variables and functions, system stored procedures, information schema views, and FileStream objects.
What you will learn from this book
How to add, modify, and remove records
How to query multiple tables
Ways to use views to modify data
How to create tools for managing databases using T-SQL
T-SQL programming techniques using views, user-defined functions, and stored procedures
Methods for optimizing?query performance
How to use?SQL Server Reporting Services to visualize T-SQL query results
This book is for beginning SQL Server developers and administrators who need to learn how to use T-SQL. Basic familiarity with relational databases and a general understanding of basic SQL functions is necessary.
Book Details
Paperback: 672 pages
Publisher: Wrox (December 2008)
Language: English
ISBN-10: 0470257032
ISBN-13: 978-0470257036
Download [32.6 MiB]