Attacks on the Press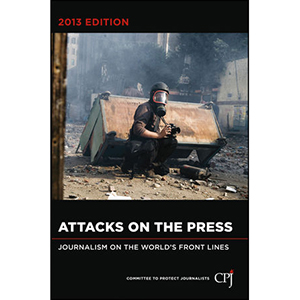 The world's most comprehensiveguide to international press freedom
From Aleppo to Zacatecas, Beijing to Brasilia, the past decade has seen a sharp rise in the number of journalist imprisonments, assassinations, and disappearances worldwide. Caught between warlords and religious extremists, corrupt police and drug cartels, and hemmed in by increasingly oppressive censorship laws, journalists have never been at such peril, nor asked to pay such a high price for the ethical practice of their profession.
Begun as a simple typewritten list in 1986, Attacks on the Press has grown to become thedefinitive annual assessment of press freedoms globally. Compiled by the Committee to Protect Journalists, it provides up-to-the-minute analyses of media conditions, press freedom violations, and emerging threats to journalists in every corner of the world.
In this 2013 edition, you will find front-line reports and analytical essays by CPJ experts covering an array of topics of critical importance to journalists, including:Journalist casualties at the front lines of conflicts in Syria, Nigeria, Somalia,Afghanistan, and other global hot spotsThe curtailment of Internet freedoms across Southeast Asia, with an emphasis on thedraconian measures now in place in Vietnam, Malaysia, and ThailandThe status of investigations into the disappearances of 35 journalists worldwide, and why more than half of those disappeared went missing in Mexico and RussiaThe rise in journalist imprisonments globally, the spate of new anti-terrorism laws that made it possible, and the example set by the U.S. government in the wake of 9/11The state of journalistic freedoms in Iran since the Green Movement and the practice of summary imprisonment of Iranian journalists How the rise of mobile Internet technology and social media has engendered new dangers for journalists from both insurgent groups and the governments they are fighting
In addition to being an invaluable source of timely information and guidance for media professionals, Attacks on the Press gives voice to journalists globally, providing them with a platform for direct advocacy with governments and a seat in discussions at the UN, OAS, EU, AU, and other official bodies.
Table of Contents
Part 1. The Front Lines
Part 2. Censored
Part 3. Heroes in the Crowd
Part 4. Murdered and Missing
Part 5. Political Transitions
Part 6. Behind Bars
Part 7. Risk and Reward
Part 8. Media and Money
Part 9. The Interconnected World
Part 10. Trends and Data
Book Details
Paperback: 304 pages
Publisher: Bloomberg Press (February 2013)
Language: English
ISBN-10: 1118550552
ISBN-13: 978-1118550557
Download [796.1 KiB]