Apple Pro Training Series: OS X Lion Support Essentials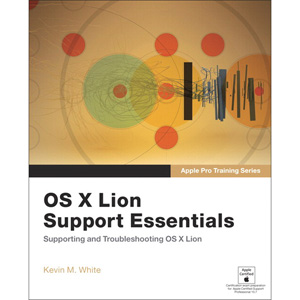 The only Apple-certified book on OS X Lion, this revised best-seller will take you deep inside the latest big-cat operating system—covering everything from installation and configuration, customizing the operating system, supporting applications, setting up peripherals, and more. Whether you're a support technician or simply an ardent Mac user, you'll quickly learn and master the new features in OS X Lion. Following the learning objectives of the Apple Certified Support Professional exam, this self-paced book is a perfect guide for Apple's training and a first-rate primer for computer support personnel who need to troubleshoot and optimize OS X Lion as part of their jobs. Chapter review sections and quizzes summarize and reinforce acquired knowledge.
The Apple Pro Training Series serves as both a self-paced learning tool and the official curriculum for OS X Lion and OS X Lion Server certification programs.
Table of Contents
Chapter 1. Installation and Configuration
Chapter 2. User Accounts
Chapter 3. File Systems
Chapter 4. Data Management
Chapter 5. Applications and Processes
Chapter 6. Network Configuration
Chapter 7. Network Services
Chapter 8. Peripherals and Printing
Chapter 9. System Startup
Appendix A. General Mac Troubleshooting
Appendix B. Command-Line Essentials
Book Details
Paperback: 672 pages
Publisher: Peachpit Press (October 2011)
Language: English
ISBN-10: 0321775074
ISBN-13: 978-0321775078
Download [47.0 MiB]