Adobe InDesign CS6 Digital Classroom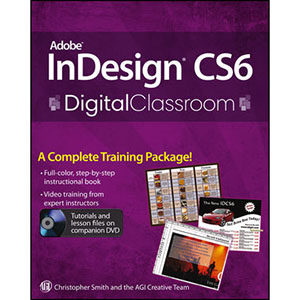 Expert book-and-video package helps you conquer Adobe InDesign CS6
Whether you want to create sophisticated page layouts for print or electronic books or produce dazzling brochures and other publications, chances are Adobe InDesign is the design and page layout tool you'll call upon. Now you can enhance your creativity and discover all the ways to use Adobe InDesign with this book-and-DVD training package. Thirteen self-paced lessons teach you how to design, produce, and develop streamlined workflows for page layout. Each lesson is accompanied by a video tutorial that clearly demonstrates techniques and further explains concepts.
A complete Adobe InDesign book-and-video training package from the expert instructors at the AGI Creative Team
Thirteen self-paced lessons allow you to absorb the material at your own pace
Includes short, downloadable videos that demonstrate techniques and further illustrate and explain concepts
Covers the basics, the essentials, and seasoned techniques, as well as new features of InDesign CS6
Adobe InDesign CS6 Digital Classroom is like having your own personal instructor guiding you through each unique lesson.
Table of Contents
Lesson 1. InDesign CS6 Essential Skills
Lesson 2. Building Documents with Master Pages
Lesson 3. Working with Text and Type
Lesson 4. Working with Styles
Lesson 5. Working with Graphics
Lesson 6. Creating and Using Tables
Lesson 7. Using Color in Your Documents
Lesson 8. Using Effects
Lesson 9. Advanced Document Features
Lesson 10. Preflighting, Printing and Creating PDFs from InDesign
Lesson 11. Introduction to Digital Documents
Lesson 12. Creating Digital Books
Lesson 13. Adobe InDesign CS6 New Features
Book Details
Paperback: 496 pages
Publisher: Wiley (September 2012)
Language: English
ISBN-10: 1118124065
ISBN-13: 978-1118124062
Download [22.9 MiB]