A Practical Guide to Web App Success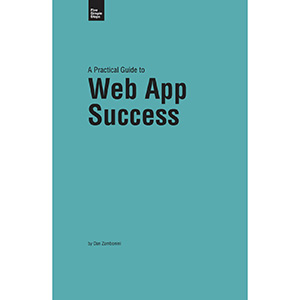 Most existing web app books cover a specific stage of the development process, such as the technical build or user interface design. For entrepreneurs or project managers who need a complete overview of the web app development lifecycle, little material currently exists.
In this book, balanced, well-researched advice is imparted with the understanding that different situations and organisations require different approaches. It distills the equivalent of multiple books into the vital, practical information you need to create a successful web app, mixing robust resources with narrative explanations.
Who should read this book
If you're thinking about creating a web app, have already started to build one, or want to improve an existing app, you need to read A Practical Guide to Web App Success.
The book is especially useful for:
Individual developers and designers wanting to create a profitable app on a budget in their spare time.
Small web startups with technical co-founders who need to quickly broaden their skill sets.
Project managers in web agencies who want a better understanding of the web app development lifecycle.
Project owners in larger organisations who need to become familiar with the terminology and best practices for a web app project.
Technology entrepreneurs, investors and business owners who want to discover the best strategies and tactics to create high-growth apps.
The book will take you through every important step of successfully bringing a web app to market, at a practical level of detail that avoids unnecessary technicalities and repetitive self-help rhetoric.
Table of Contents
Part I: Groundwork
Chapter 1. Introduction
Chapter 2. Elements of success
Chapter 3. Bare-bones project management
Chapter 4. Getting set up
Chapter 5. Preparing web app foundations
Part II: Strategy
Chapter 6. Market research
Chapter 7. Analysing users with personas
Chapter 8. Choosing features to fit the market
Chapter 9. Pricing models
Chapter 10. The mysterious art of app pricing
Part III: Interface
Chapter 11. Complexities of designing for the web
Chapter 12. Interaction design
Chapter 13. Visual composition
Chapter 14. Colour and typography
Chapter 15. Prototypes and user tests
Part IV: Development
Chapter 16. Web technology fundamentals
Chapter 17. Rapid development
Chapter 18. Security
Chapter 19. Performance
Chapter 20. Testing and deployment
Part V: Promotion
Chapter 21. Marketing basics
Chapter 22. Measuring and monitoring
Chapter 23. Search engine optimisation
Chapter 24. Outbound marketing
Chapter 25. Inbound marketing and a marketing case study
Book Details
Paperback: 362 pages
Publisher: Five Simple Steps LLP (November 2011)
Language: English
ISBN-13: 978-1907828027
Download [17.1 MiB]